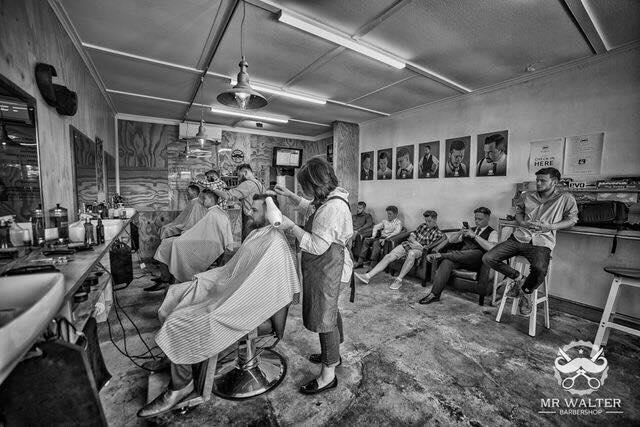 Mr Walter Barber shop
Men's grooming specialists, our team of Barbers are all passionate about offering the classic Barbershop experience. We do classic men's styling with a focus on providing a service that's second to none.
Mr Walter Barber shop
Debs

( The welsh one ) 🏴󠁧󠁢󠁷󠁬󠁳󠁿 A Leamington local now been the Barber here for 14yrs. Debs has been in the hair industry for 37 years and barbering for 35yrs of those. She is passionate about traditional Barbering skills and old school styles. Debs holds city and guilds certificate in hair dressing and Level 4 commercial Barbering qualification.

Alan

Barber

Alan began his barbering career in Ireland and since that time has worked in The Napa Valley and San Francisco. He now calls New Zealand home and he could not be happier to share his extensive barbering experience here.

Raelene

Raelene is a senior Barber has over 20yrs in the hair industry and holds national certificates. , she is a dynamic and experienced in all types of hair. Raelene is a perfectionist and has a strong focus on customer service skills.

The Tubby Barber (Joel)

Senior Barber

Joel is a very talented Barber his attention to detail and passion is plain to see. He is very passionate about traditional Barbering and loves creating old school styles. Joel holds a level 3 Barbering qualification, Joel is a valuable member of the team you will find him in store on Saturdays.
Mr Walter Barber shop
Mr Walter Barber shop
176 Shakespeare st ,leamington, cambridge
07 8232696
Tuesday

Wednesday

Thursday

Friday

Saturday

9:00am - 5:00pm

9:00am - 5:00pm

9:00am - 7:00pm

9:00am - 5:00pm

9:00am - 1:00pm